FIRST NATIONAL WORKSHOP ON AFFORDABLE HOUSING 
---
First National Workshop on Affordable Housing was organized by the center for affordable housing and sustainable built environment, NED University on 9th March 2019 at NED University. 
CLICK HERE TO DOWNLOAD PRESENTATIONS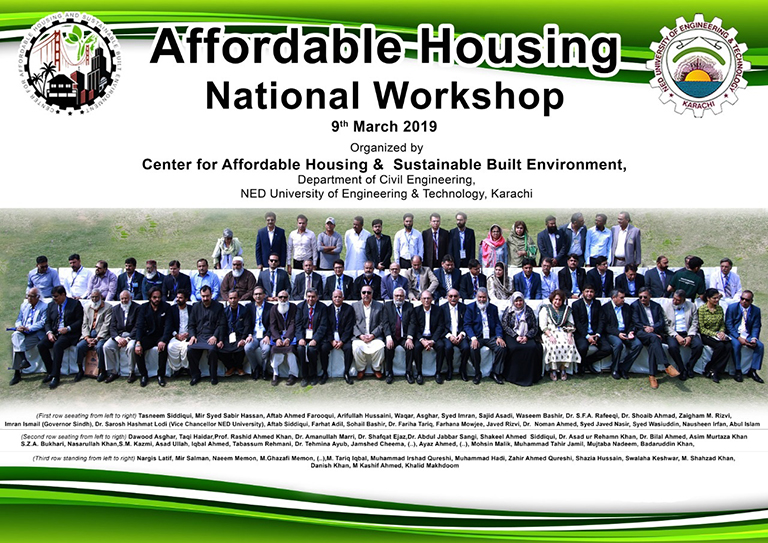 Click here for High Resolution Image
BACKGROUND
In August 2018, the Prime Minister (PM) of Pakistan has announced the initiative of Prime Minister's Housing Scheme.  The Objectives are:
To achieve the target of constructing five (5) million Housing units in the next 5 years
To make Housing accessible for all segments of the society
The broad principles of the PM initiative are:
All development should prescribe to local standards of Master Planning, Housing, Construction and Environment Protection

All Towns / Cities having population of 5 million or more, shall develop proper Master Plans

Comprehensive Strategy focusing on 4 Key areas:
Land

Infrastructure

Institutional Governance (Institution Building); and

Finance
Government should act as facilitator / regulator

Private sector, especially the

Small and medium-sized enterprises

(SMEs)

segment, should be the production partner

Proposed Housing output/supply target:
Year 1 – 400,000 units
Year 2 – 600,000 units
Year 3 – 800,000 units
Year 4 – 1.2M units
Year 5 – 2M units
The rough breakdown is
Urban                       40%
Semi-Urban            40%
Rural                          20%
To be refined for Horizontal, Mid-rise, High-rise construction and for plots and built-up units as per local Master Plans / Zoning Laws
From the General Strategy items of the PM initiative, the following 02 items are more relevant for the establishment of Centre for AFFORDABLE HOUSING AND SUSTAINABLE BUILT ENVIRONMENT.
Construction technology and techniques need to be upgrade to ensure large scale supply as per uniform standards ;
Duty free Import of construction materials, machinery and technology for such projects be allowed for efficiency;
BRIEF – NATIONAL WORKSHOP – AFFORDABLE HOUSING
The National Workshop "AFFORDABLE HOUSING - NAYYA PAKISTAN", NEDUET, March 09, 2019 was held at NED University of Engineering and Technology, Karachi, under the advisement of Chair of Prime Minister's Task Committee on Affordable Housing and with the patronage of the Vice chancellor of NED University of Engineering and Technology (NEDUET).  The National Workshop was organized by the recently established Centre for Affordable Housing and Sustainable Built Environment, at NED University.
The National Workshop provided a platform for the different stakeholders of the Construction Industry to interact on a focused approach towards affordable housing initiative of the Government of Pakistan.  This will provide interaction between the academia and different sectors of the construction industry.  The workshop brought together experts in different sectors for knowledge sharing and networking.
In the Inaugural session, the chair of the Workshop, Chair Professor Dr. Engr. Shuaib Ahmad welcomed the Chief Guest, Governor of Sindh, Mr. Imran Ismail, Mr. Zaigham Rizvi, Chair of Prime Minister; Task Committee on Affordable Housing, Dr. Sarosh Lodi, Vice Chancellor of NED University, distinguished guests and all the participants.  Dr. Shuaib Ahmad mentioned that this is the first National Workshop – on Affordable Housing under the initiative of the Prime Minister of Pakistan.  Furthermore, he mentioned that the uniqueness of this National workshop is that participants include representatives of Federal Government, Provincial Government, Regulatory Bodies, Professional Societies, Academics, Industry was represented by Architects, Designers/Consultants, Developers, Builders, Contractors, Manufacturers, Producers, Suppliers and General Interest.  Notably all the major universities in 04 provinces of Pakistan are represented.  He mentioned that due to weather conditions, academics from Universities in Gilgit Baltistan and Azad Kashmir could not attend.
Mr. Zaigham Rizvi, Chair of Prime Minister; Task Committee on Affordable Housing delivered his speech on Aims and Objectives of the Workshop.  Below is the Text of his Speech.
Naya Pakistan Housing Program
By: Zaigham M. Rizvi, Chairman PM Housing Task Force
March 09, 2019
Housing is a basic social need, as reflects in the popular slogan "Food, Clothing and Shelter".
Housing is a number game- larger the population, greater the need for housing; as also the need for food and clothing.
For meeting all these three basic social needs, the basic ingredient required is "Land".
Food: We need land to grow food items like Wheat, Rice etc,
Clothing: We need land to grow cotton
Shelter: We need land as the most basic, and at times the most expensive ingredient for the shelter.
Fact remains that land size remains the same for a country, while land needed for producing Food, Clothing and Shelter is always on the rise due to population growth.  The population growth rate as per Malthusian Theory is at geometrical progression (while the land supply is obviously constant). The world population in 1900 was around 4 billion, and today it stands at 7.67 billion. In 1970, the population of Pakistan was 58 mn, and by 2019 it is more than 200 mn. By turn of the century it is projected to be at 375 mn. The land area of Pakistan remains the same at 882,000 Sq KM. At population of 58 mn in 1970, the density was 66 Persons/Sq KM. Today it is 227 Persons/Sq KM and by turn of the century it will be 425 Persons/Sq KM. More people would have to be served with food, clothing and shelter provided by the same land, requiring for more productivity of land i.e., yield/acre for food, clothing and shelter. In housing it simply means efficient use of land through improved densification and high-rise housing.
Housing, as a political slogan, first appeared in Pakistan through Mr. Zulfiqar Ali Bhutto's famous slogan of "Roti, Kara aur Makaan…Maang Raha hae har Insaan" which in today's language is famous as "Housing for all". Then by the then PM Mr. Yusuf Raza Gilani, in his 100 Days Agenda speech, to build One Million units per year, followed by Premier Nawaz Sharif to build 5 lacs units per year. Irony is that delivery on these promises was nil. Now Mr. Imran Khan made housing a part of PTI's Election Manifesto and formally announced PTI Housing Policy. Soon after assuming power, he announced to build 50 lacs housing units over 5 years' term. For the first time in the history of Pakistan, the program included Rural Housing as well as the Peri-Urban housing in the agenda.
The target of 10 lacs housing units per year (50 lacs over 5 year's tenor) will be achieved in following market segments:
Rural Areas:            4 lacs units/year

Peri-Urban areas:  2 lacs units/year

Urban Areas:          4 lacs units/year
The PTI Housing Policy will address housing issue in wider geographical and income perspective:
Rural and Peri-Urban Housing:

PM's program will address the rural and peri-urban housing issue, alongside the main issue of housing shortage in urban metropolitans.

Income Segments:

PM's Housing Program will  have focus on lower-middle, low-income housing alongside housing issues of Bottom-of-Pyramid

Slums and Katchi-Abadis:

Program will address slums improvement, rehabilitation and resettlement of slums/squatters, and PTI will have zero-tolerance for new squatter settlements.
Role of Academia in research and advisory on Construction Materials, Construction Technologies
In Pakistan, there is a big gap between academia and the field practitioners, while globally Academia is the primary source and driver for technological innovations. We have taken an initiative to bridge this gap by establishing housing research and advisory centers at different universities.
NEDUET Karachi

: Centre for Affordable Housing and Sustainable Development- NEDUET Karachi

UMT-Lahore:

Housing Research Center-University of Management & Technology Lahore

UET Lahore

: Housing Research and Advisory Center-UET Lahore

UET-Peshawar

: UETP is doing a great job in development of low cost construction materials and disaster resilient housing
These universities have Departments of Civil Engineering, Architecture and Town Planning, staffed by PhDs, and a large number of students. The students are already being given Research Thesis on related areas on Naya Pakistan Housing Programme. Some of these topics are:
Design of Rural Housing Program-UMT Lahore

Low-Cost Construction Material - NEDUET Karachi

Alternate design of low-cost housing and habitat – UET Lahore

And more such areas will be added.
Youth Economic Empowerment: These students are routinely consulting their faculties and at times also are consulting with me to improve the quality of their work, and sharpen their knowledge. They all are highly excited for being a part of the reconstruction of Naya Pakistan and their future.
NEDUET, under leadership of Dr. Sarosh Lodi, the Vice Chancellor, and management of Dr. Shoaib H. Ahmad has taken the great initiative of organizing National Workshop on the subject, inviting all universities in the country to develop a national platform for the purpose, and take this mission forward.***
The Chief Guest Governor of Sindh, Mr. Imran Ismail acknowledged the importance of National Workshop on Affordable Housing in bringing together all the stakeholders of the construction industry to exchange knowledge and work together towards the common goal set by the Prime Ministers' Initiative.  The Governor mentioned that the need of the hour is to work together and take this as challenge and an opportunity to provide best possible technology and approach towards the Prime Minister initiate of providing Affordable Housing to the under privileged sector of the society.
The Governor mentioned that he understands that this Workshop will aim at establishing a national platform of Housing Research Centres at Academia, which will play a key role in reducing construction cost and improving construction standards. As we know that PTI Housing Policy aims at developing Rural Housing under Model Villages Program, and village specific housing research will also benefit from this research.  The Governor encouraged all the participants to use this platform for exchange of knowledge and to generate ideas for implementation towards the PM Imitative of facilitating low-cost high quality affordable housing.
The Governor assured the audience of Government's full support to this initiative and supporting the activities of the Centre for Affordable Housing and Sustainable Built Environment established at NED University.
In the technical session, there were 04 sessions, which were on Policy and Application, Construction Materials, Flexibility of Design and Constructability and Resettling and Implementation of Technology.  The workshop program included 14 eminent speakers and their power point presentations are uploaded on the web site of the Centre.  In addition to the technical session, there was Panel Discussion Session, in which 10 eminent professionals shared their viewpoint and addressed queries and questions from the audience.  The workshop concluded with plaque distribution for the speakers and the panellists.  The total number of participants was about 150.